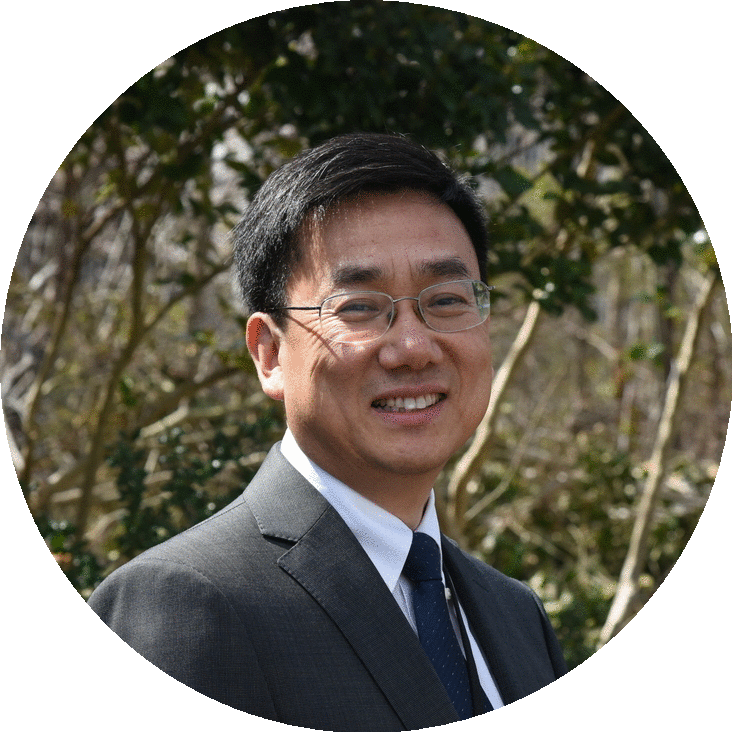 Pastor Cho began serving Hanmaum Church in 1996 as he was studying for his Master of Divinity at Southeastern Baptist Theological Seminary. He received his Master of Divinity from Southeastern and received his Doctorate of Education from Midwestern Baptist Theological Seminary. He enjoys serving the Lord through missions (he has been to Ecuador 22 times and counting!), church planting (planted Hanmaum Churches in Burlington and Wake Forest) and enjoys bringing young people to the Lord (founded the North Carolina Youth Conference in 2008). He is happily married to Mrs. Grace Cho and has three children: Joanna, Daniel, and Joyce. Rev. Cho recently became a grandfather when Joanna and her husband Joshua had their son James.
Rev. Byungjoon Jeoung
Associate Pastor
Pastor Jeoung received his Bachelor of Arts from Asia United Theological University and received his Master of Divinity from Liberty Baptist Theological Seminary. He has previous experience serving Korean-American churches and is currently the Associate Pastor at Hanmaum. He is skilled in kumdo (Korean martial arts with a sword) and is a hardcore fan of the Cleveland Cavaliers.
Hannah's life verse is John 3:30, "He must become greater, I must become less." She has a passion for building believers up to live passionately for Christ and hopes to serve in a way that encourages Hanmaum EM to gain a love for the Word and sharing Christ with the world. She works as a software consultant at IBM and has way too many hobbies including making music, baking sourdough bread, figure skating, drinking too much coffee, hiking, and collecting stickers in her passport.
Grace Park
Multimedia Director
Grace has been a part of Hanmaum since spring of 2015. She currently serves as the multimedia leader, overseeing tasks and responsibilities that are related to technology. Grace hopes to serve God through pictures, videos, and more! Outside of church, Grace works in the local public schools and loves watching Carolina basketball. Go Heels!
Jonathan Kim
Worship Leader
Jonathan was saved at Hanmaum church in 2008. He has always had a passion for music and began serving in the worship team in 2009, and was appointed as the worship leader for the English Ministry in 2014. As the worship leader, it's his desire to make sure that the congregation is fully immersed in God's love throughout the entirety of worship, and that the Father is glorified each and every service. Jonathan is studying at Duke University to pursue a doctoral degree in physical therapy. His hobbies include watching Carolina Panthers football, and watching Duke sports. Go Blue Devils!
Matthew Lee
Undergraduate Representative
Matthew is originally from Honolulu, Hawaii and moved to North Carolina in 2012 in hopes of getting into his dream college, the University of National Champions. He is currently a Sophomore at UNC, majoring in biomedical engineering. Knowing that transitioning into college or finding a new community can be challenging, Matthew hopes to serve God by connecting fellow undergraduate members with the ministry. Matthew enjoys watching the Carolina Panthers and Tottenham Spurs. Being a UNC student, ask him about playing soccer or tennis or just meeting up on UNC's campus! His nicknames are Mattchew and Chewy so feel free to use them!



David Lim
Family Group Coordinator
David has been a member of Hanmaum EM since August 2014. He studies biostatistics at UNC. He grew up in Los Angeles for most of his life. David enjoys playing or watching sports, eating good food, and "chillaxing" with his homies. David will be serving as the family group and discipleship coordinator on the Cabinet.
Joe Jung
Shuttle Coordinator
Joe was born and raised in upstate New York and upon graduating college in 2017, he moved down to North Carolina and started attending Hanmaum EM shortly after arriving. At Hanmaum, he currently serves as the shuttle coordinator, organizing rides and making sure that transportation never becomes and issue for those seeking to join the church for Sunday service, events, or retreats that the ministry goes on. Outside of church, Joe works full time as a software engineer. His hobbies include fishing and playing soccer.
Esther Lee
Welcoming Coordinator
Esther is originally from Florida but moved to North Carolina after graduating in 2016. Being new to the area and trying to find community was difficult, she was blessed to join Hanmaum and meet new brothers and sisters in Christ! As welcoming coordinator, she hopes that newcomers will get to explore and know more about Christ and feel at home in Hanmaum EM. Esther also enjoys serving with the Hanmaum Elementary department and you may spy her knitting at our Friday Night Bible studies.